Germany GP - Hockenheim (Sunday, august 26th, 2012) – Race Report, by Sexy Brigadeiro
& pictures by Arek
We have pictures again - YAY!!!
Thanks to Arek for his great job with them and also for finally coming back from his family trip, which was actually just an excuse to stay away from us and don't have to take pictures of the races... - oh, did I say it out loud?!...


Anyway...
Before reading the report and taking a look at the pictures, it's important to say that some drivers were using different cars this time...
raikkO was using the 2nd Ferrari and Otti was using the 2nd Virgin, because although raikkO is originally a Blue Arrows driver and Otti is originally a Sauber driver, they actually use the same car, since the Blue Arrows Team is actually just a skin (painting) to the Sauber car... Anyway... the fact is that the car #27 (used both by raikkO and Otti) had some crazy bug on this circuit, so they picked some of the avaliable free seats.
Jure Pazin was also using a different car this time and... he used 'my' car! The #15 Force India, both because I wasn't racing (so it was also a free seat for this race) and also because officially Jure already left the league and Backmarker got his seat at Mercedes - but I thank Jure for driving my car and although it doesn't appear on the pictures, I saw in a video he posted on Google+ that he used the 'Brasil skin' I made in the beginning of the season - that was great, mate!!!


So...
The 'weekend' started with the quali session and on Q1 we had the fastest time of the day set by Otti with a 1:13.201 and the last driver to go to Q2 was Sven, getting the 10th place with a 1:13.806 - so, only a .6 (6 tenths) gap from 1st to 10th, which suggested we would have a pretty good Q2 between those 10 guys, but...
On Q2, most of the fastest guys cut some cornes and their times were not valid, so they had to use their Q1 time instead and with that the pole 'fell from the sky' right on the home boy's lap: Sven, who got only the 6th time with a not so great 1:14.089 earned the pole EXACTLY on his home GP - I hope something like that happens to me at Interlagos!...


And then we had the grid with 16 guys. Here are the 1st 3 rows:
- Sven & raikkO
- Joe & Luft
- Denis & Alex



Lap 1 - Start


When the lights were off, Sven was able to keep the lead and the fans were all screaming and cheering him with bottles of beer...
T1 looked fine and the drivers were careful with each other, but at T2... hell got loose...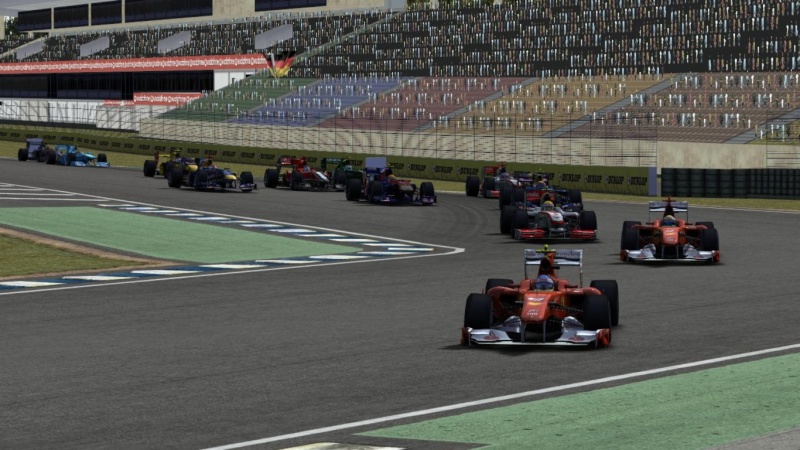 Lap 1 - T1, Sven, Raikko, Joe



Lap 1 - A big mess in first chicane (T2+T3). Jure hits Michal who makes Black spin...

Lap 1 - A huge roll by Blackfox but his car is still fine (soft tarmac)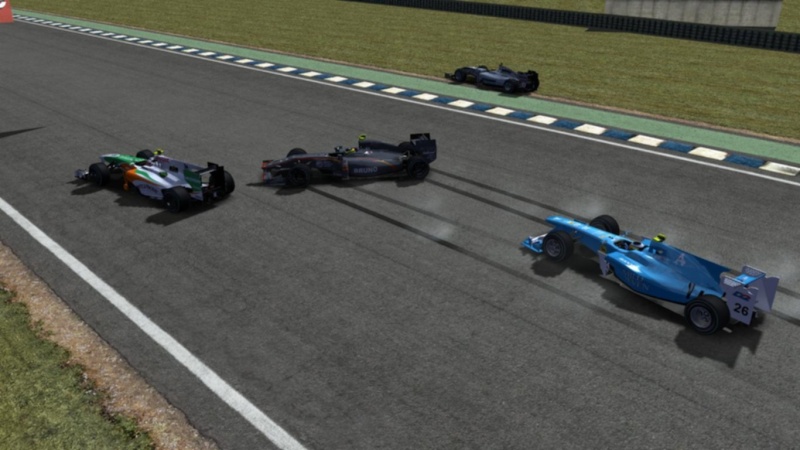 Lap 1 - Arek rejons the track but makes it unsafely hitting Backmarker. Then gets spin and Michal hits his car losing the front wing...



Lap 1 - Michal without his front wing after colision with Arek.

For those who survived, it was time to try and just stay on track and start to fight against slower drivers and see if whatever race strategy they had would work or needed to be changed/adapted according to what was happening in the race (something only the smartest drivers do, of course... - what?... I'm just sayin'...)


But anyway... some drivers kept having a hard time...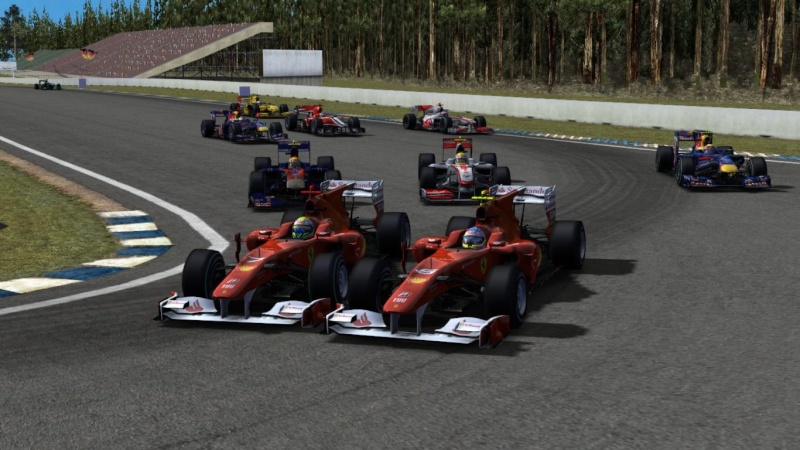 Lap 1 - Fight between Raikko and Sven for the first place.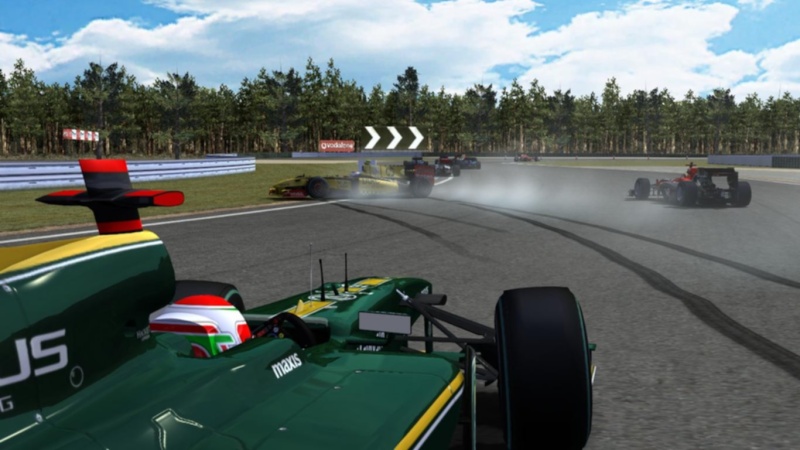 Lap 1 - Deadfish has a bad luck getting a huge spin in front of Arnioldinhu.



Lap 1 - Terrible first lap for Deadfish...



Lap 2 - Alex and Otti fight for the 6th place.

Some fights were pretty good and strong! Most of the time they were clean and nice, but sometimes a little bit too aggressive as well - but that doesn't necessarily mean they were unfair...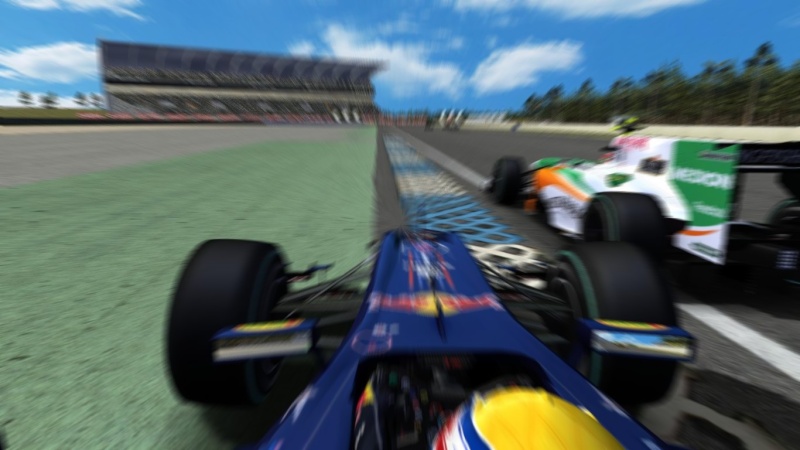 Lap 3 - Luft vs Jure for the 8th place.



Lap 3 - Battle for 8th place between Adrian S Shole, Luft_inspektor and Jure Pazin.

At lap 2, raikkO overtook Sven and got the pole and then Sven was also overtaken by Tom Mckay and the German Boy was doing his best to hold his ground and make his people proud of him, but he kept having guys all over his ass... I mean... well... whatever...

Lap 3 - Tom (2nd), Sven and Otti.

But also in lap 3 raikkO lost his front wing and I admit I don't know how exactly it happened, because Arek's replay is as noob as him and is full of lag, so... in it, raikkO 'suddenly' appears without front wing and a lot of places behind...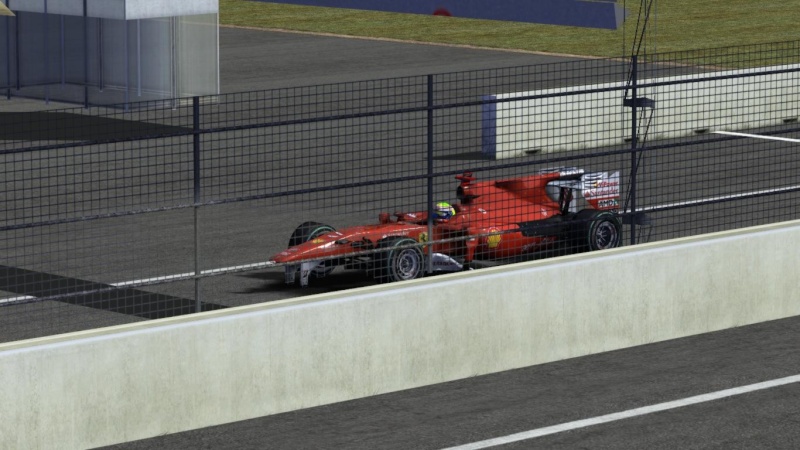 Lap 3 - Raikko was forced to do an unexpected pit stop.

Also in lap 3, Joe McLaggen got the lead, followed by Tom, Sven, Otti, Denis, Alex Hill and Arnoldinhu on the next laps - lots of fights!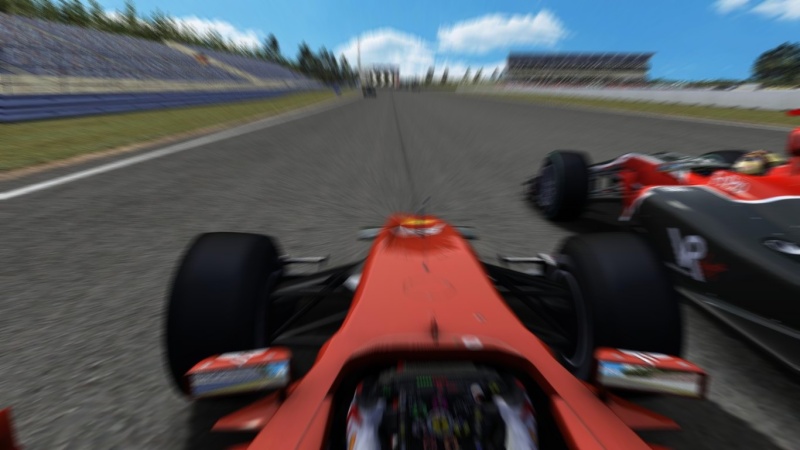 Lap 5 - Sven vs Otti - battle for 3rd place.



Lap 6 - Arnoldinhu tries to pass Alex Hill in batte for 6th place.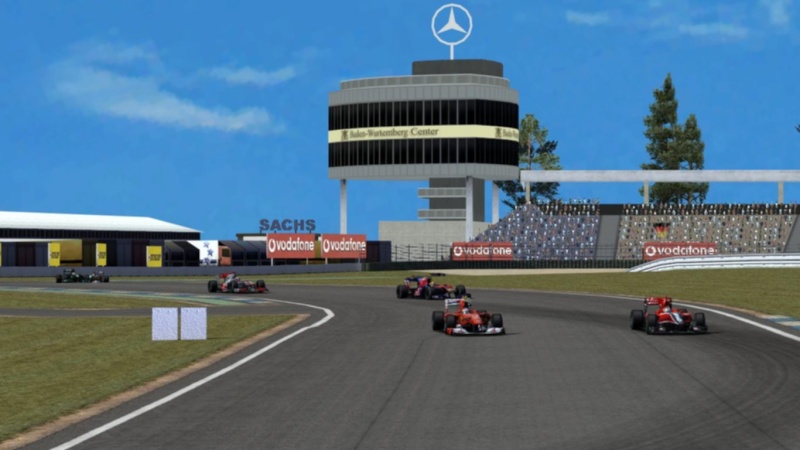 Lap 6 - Otti, Sven, Denis, Alex

Denis lost 4 places (also don't know exactly how) and found himself behind Luft and Jure at the 9th lap...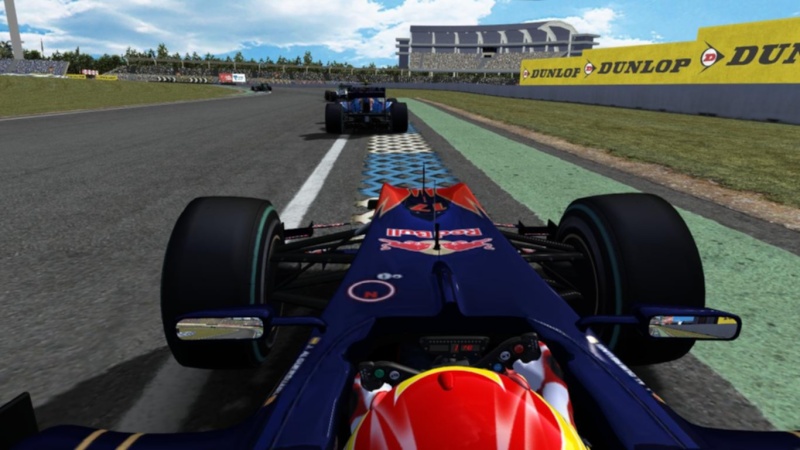 Lap 9 - Denis (9th) follows Luft and Jure.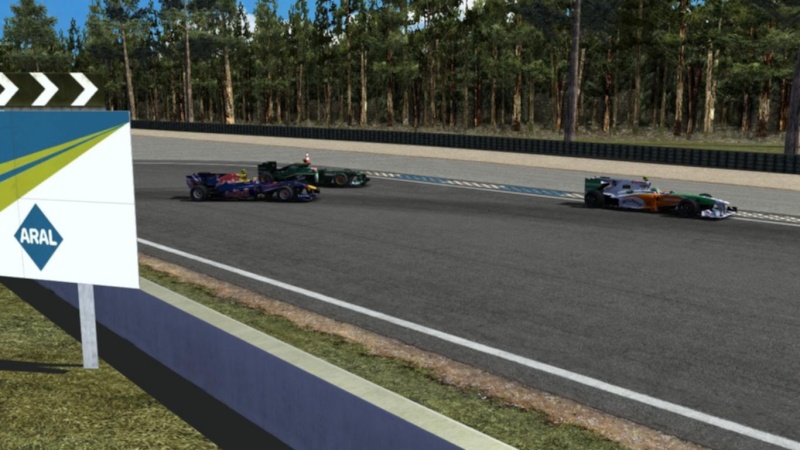 Lap 10 - Luft tries to pass Arnie in batte for 7th place behind Jure.



Lap 11 - Battle for 7th place again, this time between Denis and Arnie.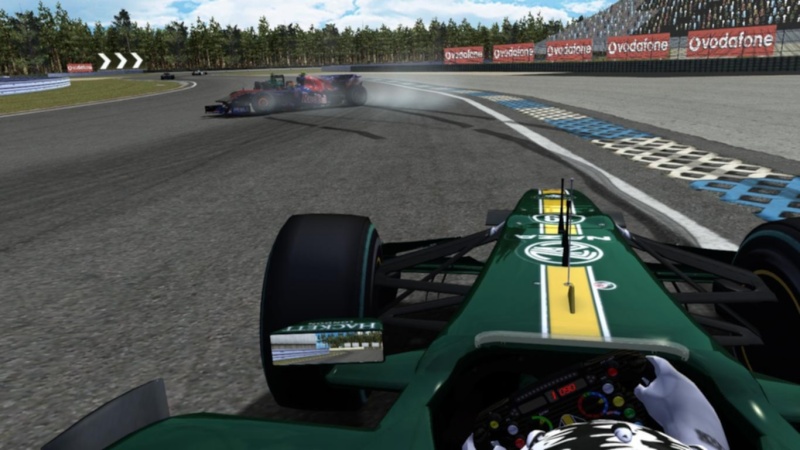 Lap 11 - They touch each other and Denis loses control!

While those guys were fighting, El Muchacho Suave was taking a spicy ride through Hockenheimring - maybe some tacos, nachos & tortillas to go along with all that beer?... Tom was hoping he could spoil that little 'party'...

Lap 11 - Joe McLaggen still leads the race.



Lap 12 - Tom McKay keeps the 2nd place, chasing Joe...



And then it was the time for the 1st round of pit stops for the guys going for 2 stops and guess who was one of the 1st ones to go in?... Yep, the 1st place...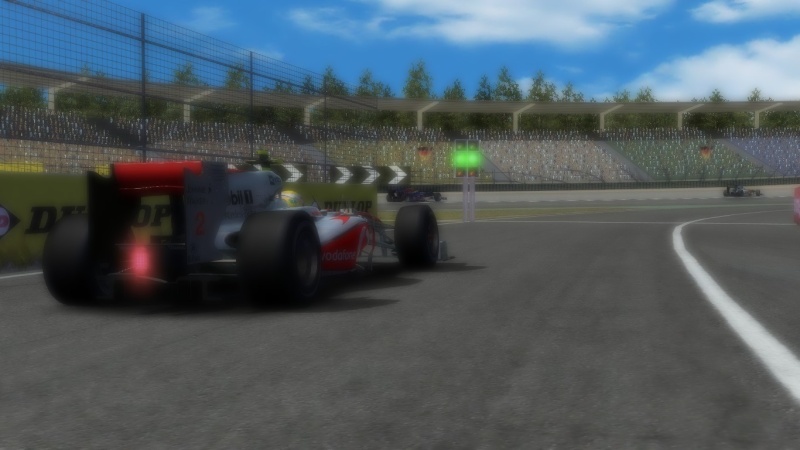 Lap 13 - Joe leaves the pits dropping to 5th.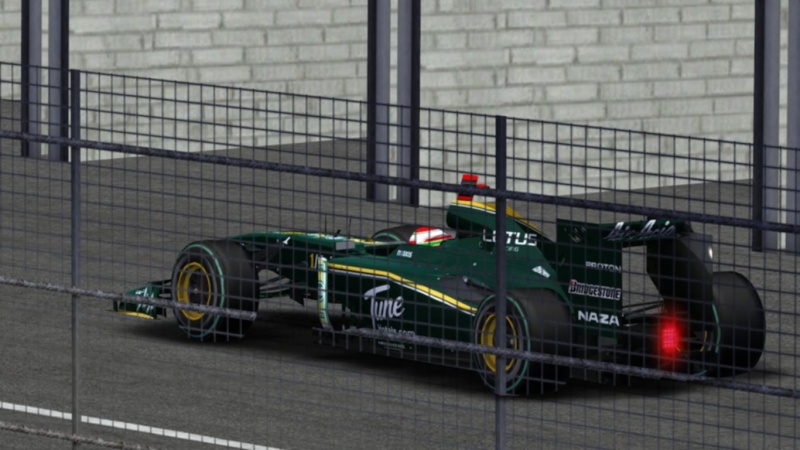 Lap 13 - Arnoldinhu in the pits.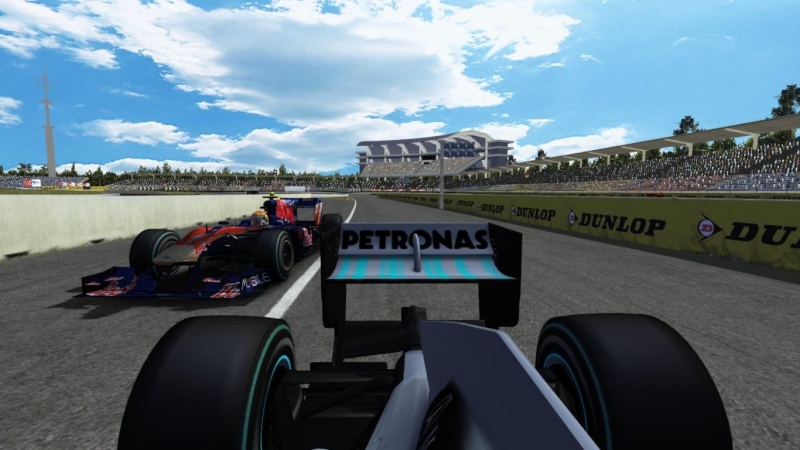 Lap 13 - Close fight between Backmarker and Denis at the entrance to the pits.

And a few fights become a little 'too hard' and some guys got 'hurt'...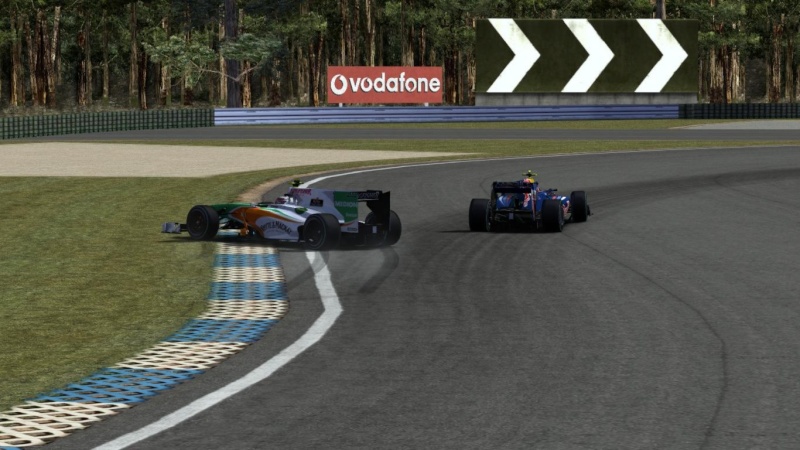 Lap 13 - Hard fight for provisional 3rd place between Jure and Luft. Jure spins after a contact.

And a few other 'crazy things' kept happening and it was time for Dildo Boy to take an early flight to Fuji...



Lap 15 - Otti who was 5th has a serious problem (a puncture?) and ends up on the wall...


Joe was trying to recover the places he lost with his stop - maybe some guys had a different pit stop strategy... but since he didn't know if they had it or not and also since he had fresh tyres, it was time to just step the shit out of that gas pedal!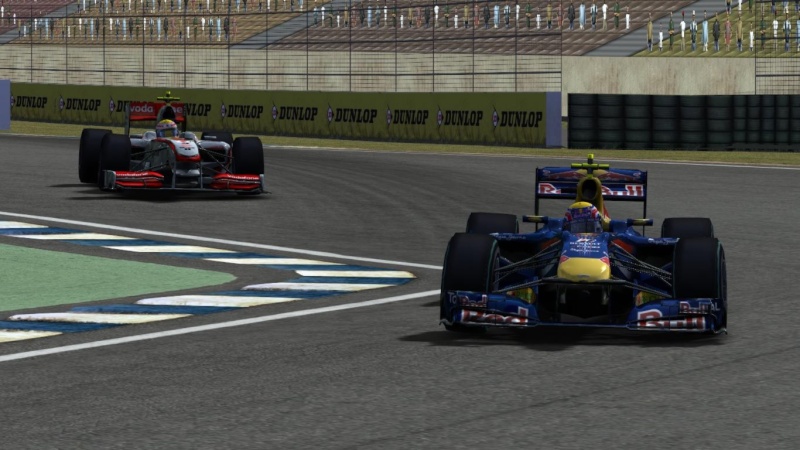 Lap 16 - Luft_inspektor 'hunted down' by Joe McLaggen...



And on his pit stop, Home Boy decided to show off to the crowd and perform a few 'stunt tricks' on the pit... he went reverse (because he lost his pit slot) and with that he blocked Luft who had nothing to do with that particular show...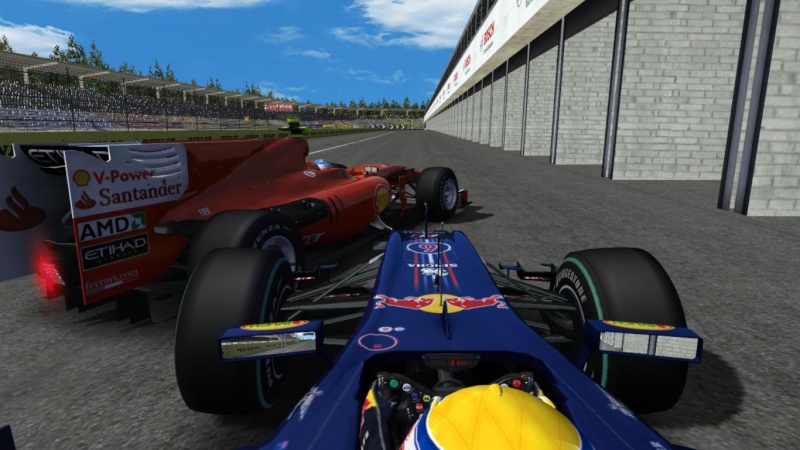 Lap 17 - A crazy maneuver by Sven in the pit lane blocks Luft in his spot...



With other guys stops, Joe was able to get the lead again and guess who 'appeared' in 2nd?... Joe's teammate, Alex 'China Boy' Hill! The race just couldn't be better for La Cucaracha Man so far!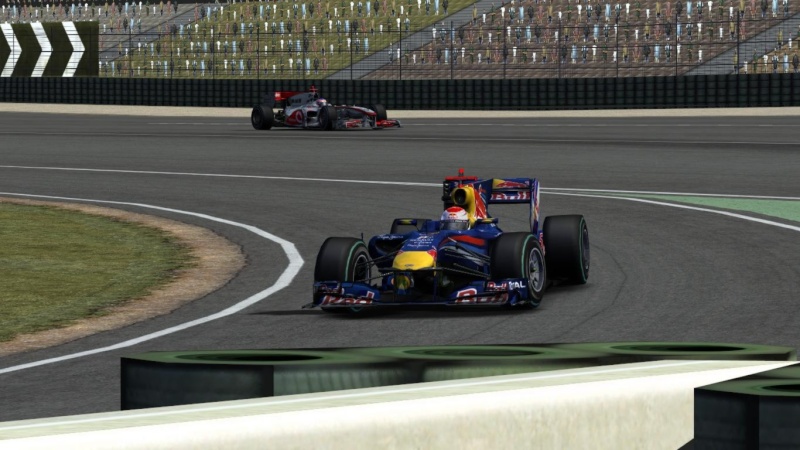 Lap 17 - Tom goes to the pits, Alex Hill jumps up to 2nd place.

After that incident in lap 13, Jure and Luft met again...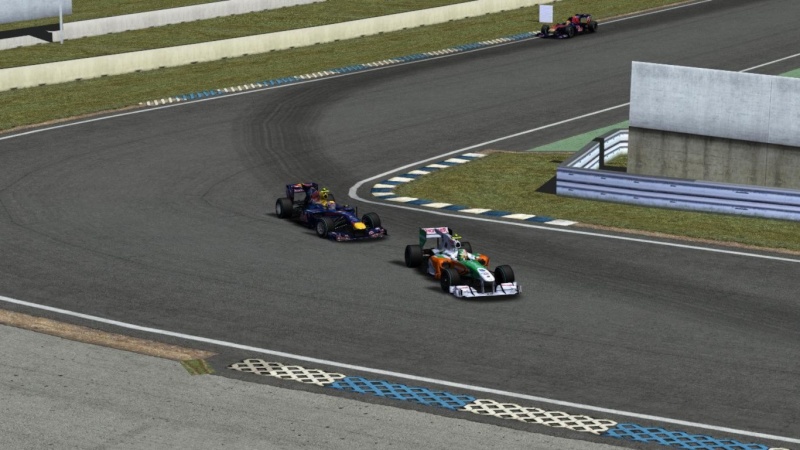 Lap 19 - Luft who lost some time after incident with Sven, found himself close to Jure again... But this time fight was clear!


I never noticed but it's amazing the ammount of twin brothers in Germany... or maybe they're just too far ahead in all of that cloning technology...

Lap 19 - The Mercedes-Benz Grand Stand full of F1 fans!


FILL THE BLANK SPOT:
Once a noob... ____________________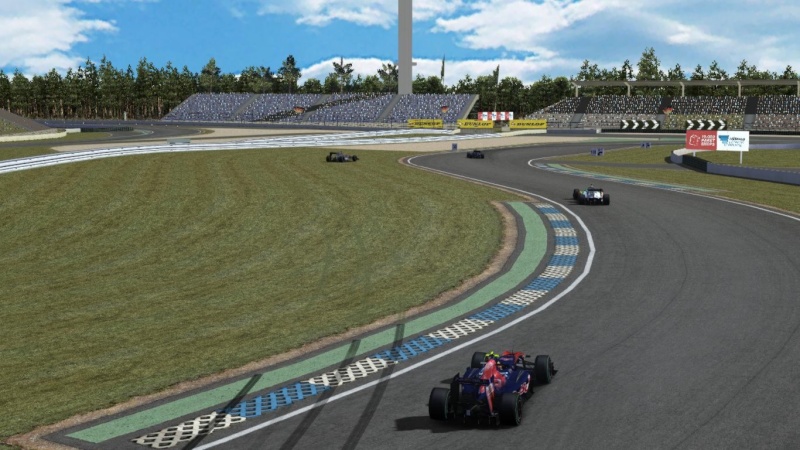 Lap 19 - Arek who was 5th at that monent makes a mistake losing a few places.

After surviving an unvoluntary stunt trick at T2 (lap 1), Black was actually having a pretty good race!



Lap 21 - BlackFox does a solid race so far (3rd before his pit stop)

Another chance to fill the blank above:



Lap 22 - Arek locks his front tyre before the speed limit line...



But once again things were trying to turn black to Black...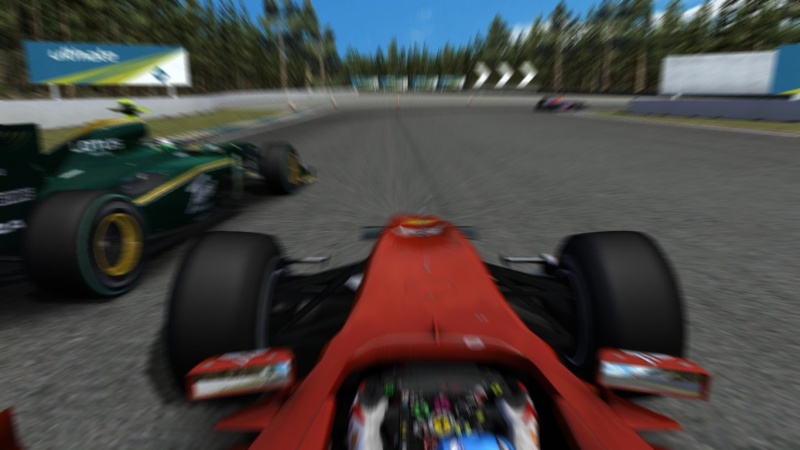 Lap 23 - Black after his pit stop tries to defend from Sven in battle for 9th, but... he loses it.


On his 2nd race in the league, the 'rookie' Backmarker was doing a good job again, going among the pointers (top 10), but his car also needed new tyres, so... (time for the 2nd round of pit stops!)



Lap 23 - Backmarker (7th) goes to the pits.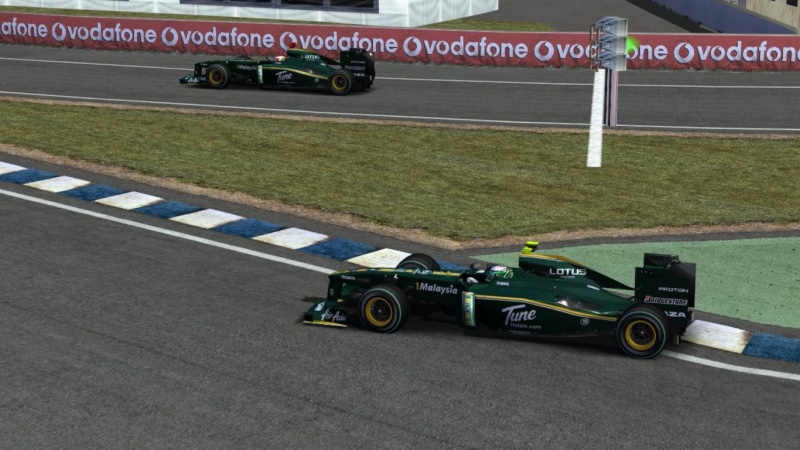 Lap 24 - Arnie leaves the pits and rejoins behind Black in 9th place.

Black was tired of black things in his race, so he decided to brighten it up again a little bit!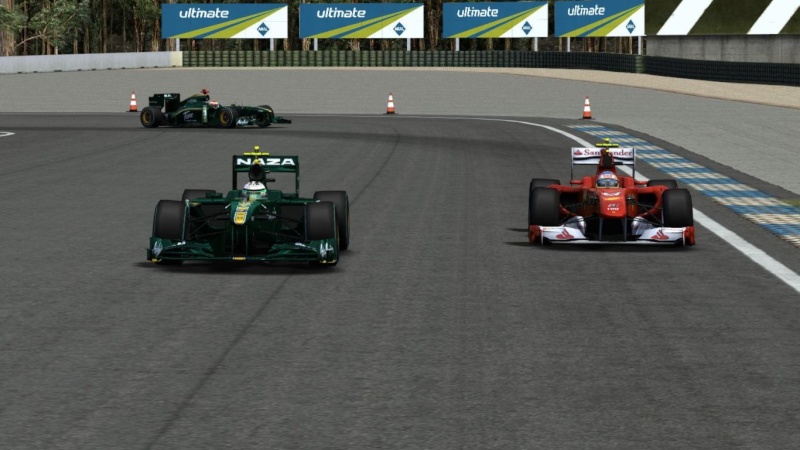 Lap 25 - Blackfox gets his revenge over Sven!



But I guess those 'dark clouds' moved to dead's head now...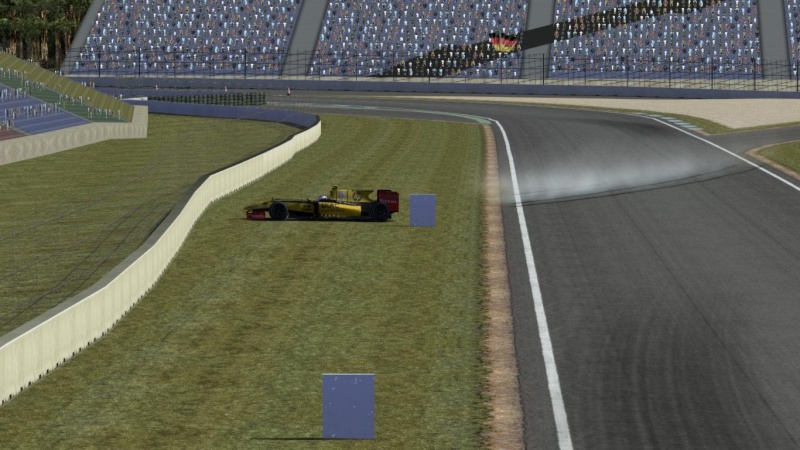 Lap 25 - Deadfish won't count this race to his good ones...

Jure was having his 'Sexy Brigadeiro Day' and was among the top 5 and looking good to score a few points, but also needed fresh tyres for his Force India - he only forgot that I was going to use hards and go for only 1 stop...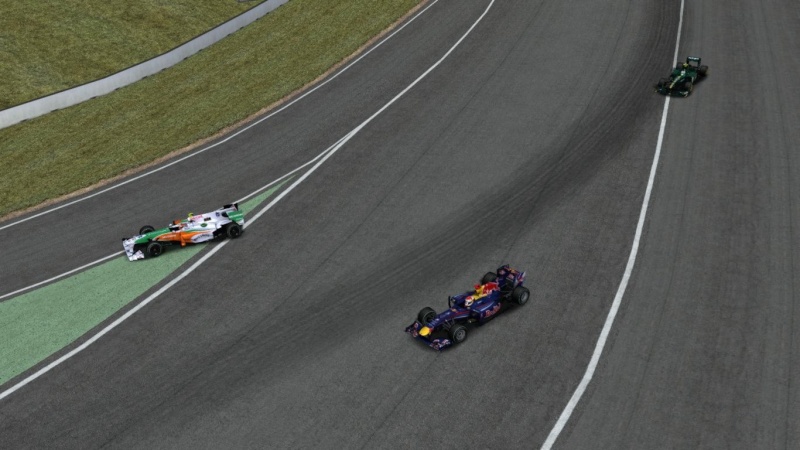 Lap 26 - Jure who was provisionally in 4th place goes for his pit stop.

Black's race was getting more and more colorful and bright!




Lap 27 - Black passes Tom in fight for 4th place.

And you know what they say about noobs, right?!...
Yep, most of them are too damn lucky!...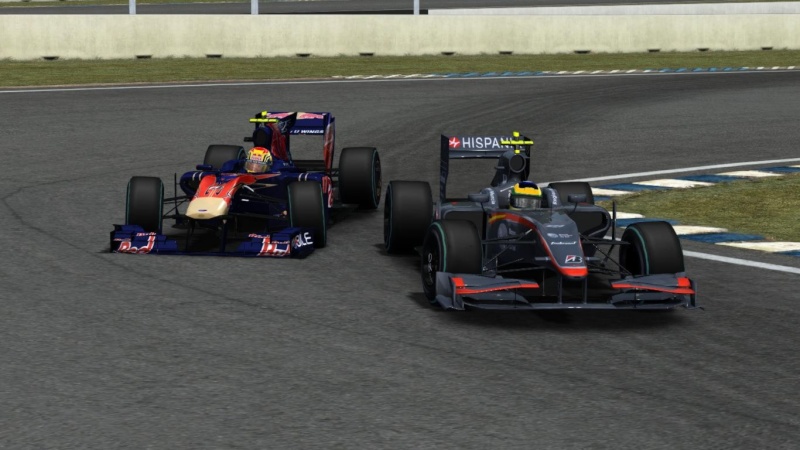 Lap 29 - Denis was trying to pass Arek (8th) through several laps, but innefective...



Uh, oh!... Jure was SO close to scoring points! But something that (thank God) NEVER happened to me since I joined the league happened to him... Unabomber attacked again - damn you, Grisu!!!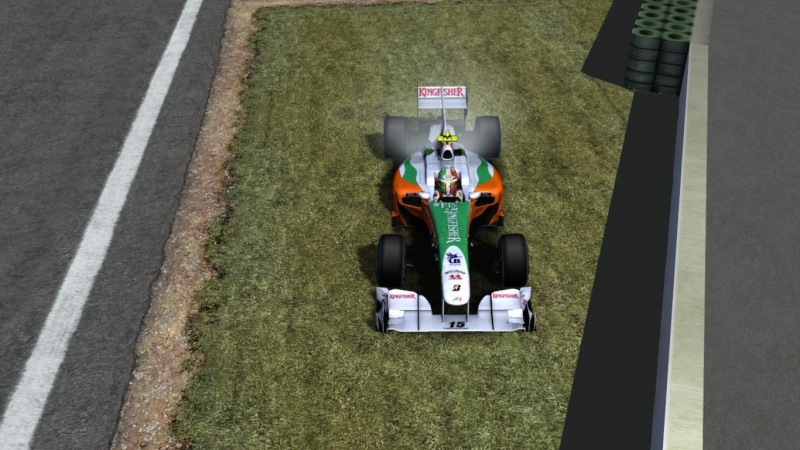 Lap 29 - Jure has to retire...


Uh, oh! [2]... Dark clouds on Black's skies again...


Lap 31 - Blackfox makes a mistake in T1 losing his safe 4th place dropping down to 7th!

But on the last laps, there were still some fights about to happen and some drivers trying their best to gain a few extra places!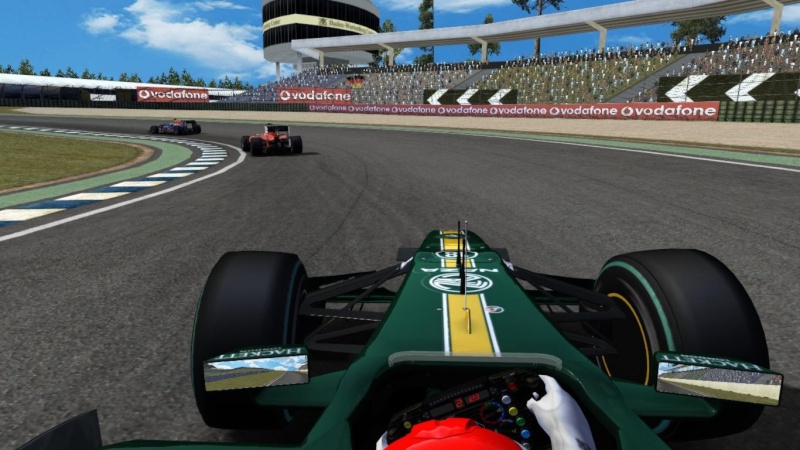 Lap 32 - Arnoldinhu (6th) follows Sven and Tom.



Lap 33 - A while later Arnie passes Sven and goes up to 5th!


And even on the final lap we had a few 'surprises'!..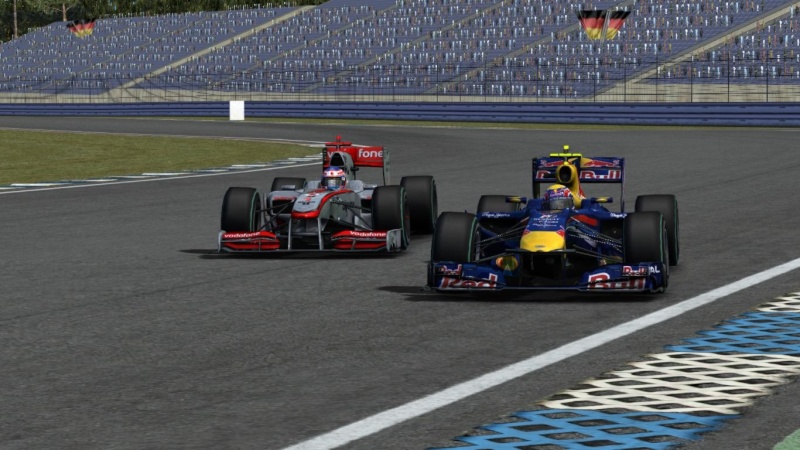 Lap 34 (FINAL LAP) - Alex Hill overtakes Luft_inspektor during their battle for 2nd place on the very last lap!

But no one could take away his very first victory in the league - VERY well deserved, for ALL he has done so far, especially in this season - Mr. Regularity FINALLY got his reward - ARRIBA, MUCHACHO!!!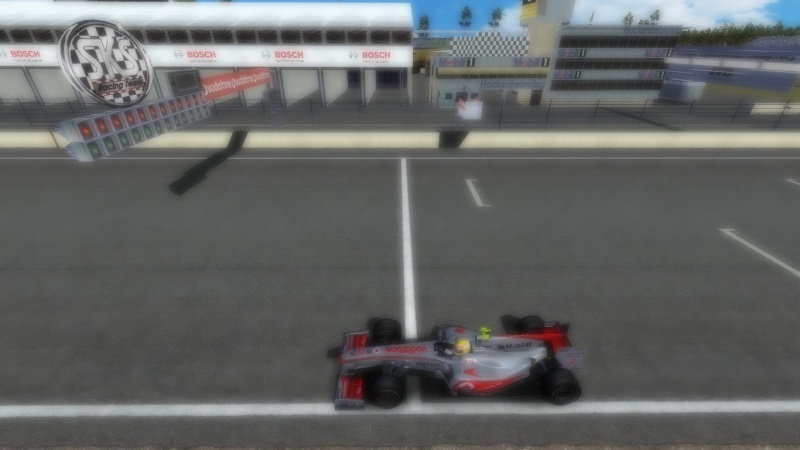 Lap 34 (FINAL LAP) - Joe McLaggen wins his first rFactor Racers League race ever!

Lap 34 (FINAL LAP) - And Joe's teammate, Alex Hill, crosses the finish line in 2nd - GREAT race for the McLaren boys!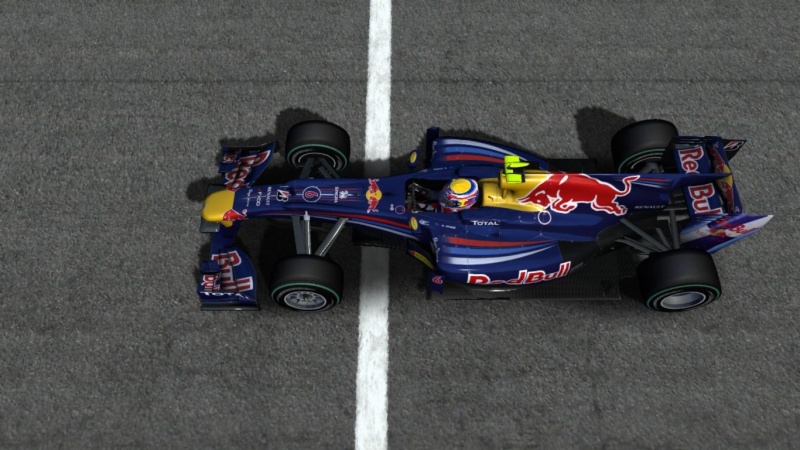 Lap 34 (FINAL LAP) - Luft_inspektor gets the last podium spot and is 3rd!


But hey, who said it was over?! As Lenny Kravitz would say: Baby, it ain't over 'til it's over...



Lap 34 (FINAL LAP) - Tom McKay (4th) gets a puncture in the very last corner!
- Arnie takes his chance!


Lap 34 (FINAL LAP) - Black (7th) overtakes Sven (who also had a puncture in the very last corner) through the outside and almost catches Tom right before the finish line! What a finish!


So, if you're wondering what happened to that asshole Championship Leader... well, he has an ass internet connection back in Kangaroo Land and he just 'vanished' from the German GP at the 5th lap, when he was in 9th place... but don't cry! He is still the Championship Leader!


***UPDATE***

Uh-oh!... as ALWAYS, we had a few penalties to give, so... Here are them, after debated between the admins. for the entire week - yep, some of them were pretty hard to judge and we just wanted to be as fair as possible to everyone - hope you guys understand!
Still they didn't change much in the final result...
Luft and Arnie 'traded' places and also the last Podium spot... - congrats to Arnie for the Podium!!! FIRST one in his career in the League so far!!! (3 less points to Luft and RBR and 3 more points to Arnie and Lotus)
And also Arek (from NoobLand) trading places with Denis... (2 less points to Arek and HRT and 2 more points to Denis and STR)

And guys, just a little 'heads up':
If you DON'T want to appear in THIS section of the report... PLISS be a little more CAREFUL in the race.
It's OK to be aggressive, but also try and RESPECT your opponents (AND this League's rules) and do your best to have CLEAN fights/race - so EVERYONE can have FUN in the end!!!
And don't forget it's a LONG race and we have LOTS of corners, straights and laps to try and gain or recover a position, so... it's not worthy to risk your (and your opponents) entire race because of a move/overtake/position...
Just think about that!

1. Lap 1, Turn 2 - Jure v Michal - Jure caused an avoidable collision with Michal who made Fox spin. - DT, Jure

2. Lap 1, Turn 3 - Arek v Backmarker - Arek unsafe rejoin on track. - DT, Arek

3. Lap 3, Turn 4 - Raikko v Luft - Raikko caused an avoidable collision with Luft - DT, raikkO

4. Lap 13, Turn 5 - Jure v Luft - Luft hit Jure making him spin - DT, Luft

5. Warning for Michal for calling restarts, ignoring blue flags.

6. Warning for Sven for (unintentionally) blocking Luft in his pit spot.
FULL RESULTS
For ALL the pointers and Championship standings, just take a look below!!!
GERMANY DRIVERS' POINTS

(OFFICIAL - AFTER penalties):

1
Joe McLaggen
(McLaren)
25 points
2
Alex Hill
(McLaren)
18 points
3
Arnoldinhu
(Lotus)
15 points
4
Luft_inspektor
(RBR)
12 points
5
T McKay
(RBR)
10 points
6
BlackFox
(Lotus)
8 points
7
Sven
(Ferrari)
7 points
(6 +1 for pole)
8
Denis_Belarus
(STR)
4 points
9
Arek
(HRT)
2 points
10
Backmarker
(Mercedes)
1 point

GERMANY CONSTRUCTORS' POINTS

(OFFICIAL - AFTER penalties):

1
McLaren
43 points
2
Lotus
23 points
3
RBR
22 points
4
Ferrari
7 points
(6 +1 for pole)
5
STR
4 points
6
HRT
2 points
7
Mercedes
1 point
DRIVERS' CHAMPIONSHIP - After 11 races

(OFFICIAL - AFTER penalties):

1
Adrian
169 points
2
Tom
124 points
3
Joe
123 points
4
raikkO
83 points
5
Grisu
82 points
TIE BREAKER: best finish pos.: 1st
6
Luft
82 points
TIE BREAKER: best finish pos.: 3rd
7
Alex
74 points
(+2)
8
Arek
65 points
(-1)
9
Sven
64 points
(-1)
10
Sexy
35 points
11
Arnie
31 points
(+5)
12
Otti
29 points
(-1)
TIE BREAKER: best finish pos.: 2nd
13
ADI
29 points
(-1)
TIE BREAKER: best finish pos.: 4th
14
Denis
26 points
(+1)
15
Bober
23 points
(-2)
16
Goa
22 points
(-2)
TIE BREAKER: best finish pos.: 2nd
17
Black
22 points
(+1)
TIE BREAKER: best finish pos.: 6th
18
Adammo
15 points
(-1)
19
Reikss
8 points
20
Jack
5 points
21
Stig
4 points
TIE BREAKER: best finish pos.: 8th
22
Dead
4 points
TIE BREAKER: best finish pos.: 9th
23
Backmarker
2 points
24
Jean
0 points
TIE BREAKER: best finish pos.: 11th, 11th & 12th
25
Jure
0 points
(+2)
TIE BREAKER: best finish pos.: 11th, 11th & 18th
26
Kurt
0 points
(-1)
TIE BREAKER: best finish pos.: 11th & 12th
27
pxr5
0 points
(-1)
TIE BREAKER: best finish pos.: 11th & 15th
28
Michal
0 points
(+2)
TIE BREAKER: best finish pos.: 14th & 16th
29
Cueball
0 points
(-1)
TIE BREAKER: best finish pos.: 14th & 18th
30
Tony
0 points
(-1)
TIE BREAKER: best finish pos.: 15th
31
soutie
0 points
TIE BREAKER: best finish pos.: 17th

* - '

tie breaker

' = best finish position (in case of a new tie, the next best finish position - and so on...)

CONSTRUCTORS' CHAMPIONSHIP - After 11 races

(OFFICIAL - AFTER penalties):

1
RBR
206 points
2
McLaren
197 points
(+1)
3
Renault
174 points
(-1)
4
HRT
87 points
(+1)
TIE BREAKER: best finish pos.: 1st (Arek), 2nd (Goa) & 3rd (Arek)
5
Williams
87 points
(-1)
TIE BREAKER: best finish pos.: 1st (Grisu), 2nd (Grisu) & 4th (Grisu)
6
Blue Arrows
83 points
7
Force India
64 points
TIE BREAKER: best finish pos.: 4th (ADI & Sexy)
8
Ferrari
64 points
TIE BREAKER: best finish pos.: 5th (Sven)
9
Lotus
53 points
(+1)
10
STR
49 points
(-1)
11
Sauber
29 points
12
Virgin
8 points
13
Mercedes
6 points
NEXT RACE

:

Pacific GP

, at Fuji - september 2nd, 2012


Last edited by Sexy Brigadeiro on 2nd September 2012, 5:33 am; edited 8 times in total