Great Britain GP - Silverstone (Sunday, june 24th, 2012) – Race Report, by Sexy Brigadeiro

& pictures by Arek


Another GP with a few unnexpected things - some good... some not... mostly not... at least to me (and a few other guys)...



We had another dominant driver this weekend, but... if someone bet their money on The Kangaroo Kid... they're poor by now...
Pushed by some hot anime chicks, Grisu was too fast for everyone else this time! I think he had some new episode of Dragon Ball to watch after the race or something... he just wanted to get it done as soon as possible and... so he did!

At the quali, he got the pole with an amazing 1:30.989 - below the 31's?!... I think I heard Sam screaming: CHEATER!!!... - maybe my ears need to be clean... EEWW!!!

Anyway...
This time raikkO wasn't able to steal the pole in the last seconds and started in 2nd place with Tom in 3rd - both of them about 0,6 secs behind Grisu... and Adrian (the championship dominant leader) was only the 7th this time...

So... there we were and we had the lights OFF (got it, Adrian?!) to go... and we were about to take T1, which I could swear it would be a damn 'carmageddon' - and that was why I started last (on purpose), but... I was only half-right... and we had only a few drivers going wide and, of course, bumps and touches here and there - and one of these drivers was Adrian... it seems his luck (especially at the starts) didn't get the flight to Great Britain and stayed in Australia...
Grisu jumped in front and just stayed there until the end - jah, that was it about his race - boring and efficient!


Lap 1 - The start of rFR British GP.




Lap 1 - Sprint to the first curve.



Lap 1 - As we expected some mess up there.



Lap 1 - Grisu saves his 1st place.



Lap 1 - Adrian having troubles.

Right behind we had lots of drivers trying to have a good start and get a good number of places - which is expected, but at the same time, it makes some good drivers act a little 'noob-ish' and drive like if it was a '1-lap-race' (when it was in fact a 26-laps-race, which takes about 45 minutes) and try some 'all or nothing' moves... well... some of them only got the 'nothing' part of it...
And the problem with that is that even drivers who were trying to be as careful as possible and had nothing to do with other race incidents ended up paying the price for that too... well, that was MY case and instead of 45 minutes, my race lasted only 45 seconds - yay... NOT!


Lap 1 - Sven passes Joe on the outside in fight for 2nd place.



Lap 1 - While later Goa and Denis fight for 11th place in the same corner.




Lap 1 - Tom tries to pass Otti but he shuts the door...




Lap 1 - ...sending him to the curb and...




Lap 1 - ...two Red Bulls spin (Luft in the background was hit by Alex).




Lap 1 - Several cars very close to each other in a very tricky corner...




Lap 1 - Pxr5 gets a small hit but it was enough to send him off the track...




Lap 1 - Sexy tries to avoid that mess but he has bad luck when he gets hit by Denis...


Lap 1 - Pxr5 is still able to contunue but Sexy has to abandon...


As the 1st lap went on, there were still drivers fighting for positions and trying some 'hard moves', where the slightest mistake can cost a lot (for themselves and/or to others) and that was what happened when Tom McKay tried to overtake Otti at the last chicane... made a mistake and... hit Goa, who had nothing to do with that, but... although he lost some positions, at least he was 'lucky' enough to be able to stay in the race and tried his best to recover.
Tom actually got stuck at the gravel and had to force his engine to get out of there and he knew that it would blow sooner or later and he wouldn't be able to finish the race... still he tried to keep going - giving up is for weak people!

Otti was actually lucky... didn't 'suffer' anything from all of that mess - escaped Tom's attack and also earned Goa's position! Damn, Barbie Girl Dildo Boy!!!

Lap 1 - Angry Tom vs Otti, part 2.



Lap 1 - Tom misses his braking point and hits Goa heavily...

As I said before... Grisu jumped in front, followed as close as Sven could in 2nd place (but not enough to actually threat the leader) and there was a good fight for the 3rd place, involving (on this order) Joe, Arek and raikkO, but before the end of lap 2, 'The Noob' (you know who he is...) was forced to watch a Blue Arrows passes his dark gray HRT...




Lap 2 - Joe McLaggen (3rd) fighting with raikkO and Arek behind his back. RaikkO is up to 4th.

At the 3rd lap, we were still having some mess on the track... this time between pxr5 and Arnoldinhu... it all started in T1 when Arnie made a mistake and rejoined the track unsafely right in front of pxr5, who just couldn't avoid him... Result: they crashed. Pxr5 lost his front wing and was trying desperately to get to the pits to replace it (losing LOTS of positions on the way) and he was SO desperate that he actually entered the wrong pitlane! He entered the old one, which was... empty!
And after not finding anyone and being unable to fix his wing, he just abandoned his home GP...


Lap 3 - Arnoldunhu and pxr5, both having problems in first turn.




Lap 3 - Heavy impact between them. Arnie stops on the deep gravel, Pxr5 loses his front wing.




Lap 3 - Pxr5 desperately tries to go to the old

Silverstone's pits and hits the wall! What a show for spectators!


On the following laps, the firt two drivers (Grisu and Sven) were having an almost sleepy race...

But in the middle of the pack we were still having a lot of action - WAKE UP, YOU NOOBS!!!


We had a lot of fights, overtakes and... mistakes! Silverstone can be a little tricky sometimes - especially its runoff areas which causes a silly mistake in track to have terrible consequences and a few other drivers learned about that the hardest way...



Lap 3 - Arek (5th) makes a mistake in Copse, Alex Hill takes his chance.



Lap 3 - But a while later Alex has strange technical problems and goes really wide losing many positions!


Lap 3 - Tom Mckay ends his race on the wall after tricky turn 5.



Lap 4 - Joe defends his 3rd place against Raikko.




Lap 4 - Arek opens his throttle too much and almost spins.



Lap 4 - Before the bridge: Joe vs raikkO...




Lap 4 - After the bridge: ...raikkO passes Joe at the end of the straight.




Lap 5 - Jure passes Denis at Maggots.



Lap 4 - Deadfish makes a small mistake right before the exit to the longest straight and becomes "an easy food" for "Karhu"

Lap 5 - Deadfish makes another mistake and is overtaken by Denis. But his revenge came very quickly!


Lap 8 - Joe Mclaggen defends vs Otti and Arek!

Lap 8 - But Joe goes a bit wide and is overtaken by Otti...


Lap 8 - And Arek also found a way to pass Joe!



So... it was actually time to wake up about lap 9 when the first round of pit stops started and Sven was, once again, one of the first drivers to make a visit to the pitlane...



Lap 9 - Sven, who was 2nd, in pits. And pxr5 is now just a spectator...



Lap 9 - A moment later Arek and Joe do the same...

Once again we had some different pit stop strategies and the guys trying only 1 stop (ot trying to make a longer 1st stint, even going for 2 stops) stayed in track a little longer and we had some changes in the positions... and after the stops, we got back to some action - but a little more than Otti and Denis wanted, I guess...



Lap 10 - Otti, who gained some positions after oponents pit stops, spins...




Lap 10 - Duel for 9th place between Jure and Denis.



Lap 10 - Side by side with Adrian S Shole on their back!



Lap 10 - Jure suddenly turns left towads Denis...


Lap 10 - ...sending him off the track!

Oh, boy!...



Lap 10 - Jakcblack who hasn't done his pit stop yet is 6th. In the background Joe tries to overtake Arek.


Lap 11 - Grisu goes out from the pits as 1st... what's new?...


Lap 11 - Blackfox spins in front of ADI, losing the 11th place... and his front wing...



Lap 12 - Raikko returns from pits behind Arek (3rd) who takes his place thanks to strategy!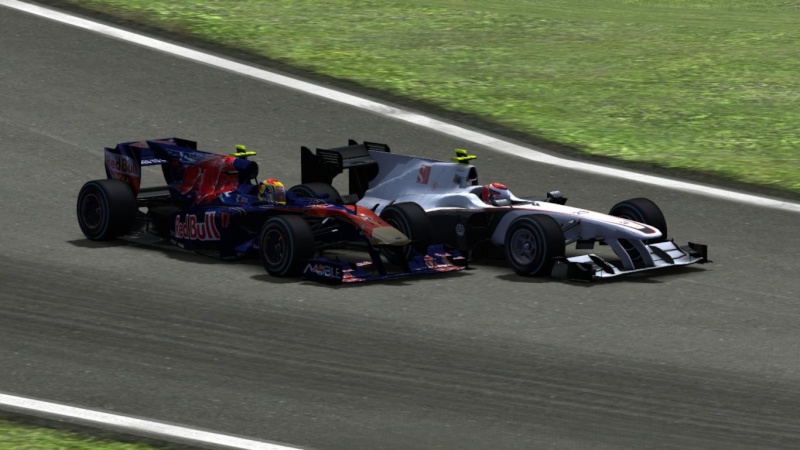 Lap 12 - Otti makes a mistake one lap after his pit stop and drops down behind Denis, but he is lucky to pass him back quickly (battle for 7th).



Adrian was still having a 'not so great' weekend and trying his best to stay in track, but other drivers were having a good time and nice fights! I was already out of the race, but watching everything on the TV... kinda...

Lap 14 - Adrian does similar mistake to Arek's and spins the same way...



Lap 16 - Hard duel for 10th place between Jackblack, Goa and ADI!



Lap 16 - ADI passes Goa in Copse - 'GO MATE!!!', screamed Sexy on the team radio!


A little later it was time for the second round of pit stops and that's when the cars are faster, with fresh new tires and less fuel, so... we still had some good action saved for the last laps - even Adrian was finally having some 'luck' now!


Lap 17 - Arek leaves the pits after his second stop in 6th place.



Lap 17 - Battle for 7th between Alex and Adrian.



Lap 18 - Adrian passes Alex!

Lap 18 - Quick revenge by Alex!

Lap 18 - Lots of action: Raikko (2nd), Joe who was 3rd comes to pits for his second stop and Sven takes 3rd place!



Lap 18 - Arek overtakes Otti in Stowe and he is up to 5th and then up to 4th after Joe's pit stop. In the little red circle Adrian passes Alex... again, but this time for good!



And when we thought things were pretty much done (at least to Grisu) and 'peaceful'... we had some pretty good 'conflicts' in the very last laps!!!
Check the highlights below:



Lap 23 - War for 2nd place between Romania (raikkO) and Germany (Sven)!



Lap 23 - Romanian soldier, raikkO makes a mistake on the curb and crashes losing his front wing. German private Sven gets the 2nd place.



Lap 23 - Poland comes to make fun of the defeated: Arek makes an easy pass on raikkO, takes the 3rd place and screams: PEGA NA MINHA BENGA E BALANÇA!
- I wonder where he learned that shit from...



Lap 23 - Even Mexico had some fun (Joe)!



But yep, that was it for Silverstone action this time... enough is enough and in the end... it ended (duh!...) as it should... yay...?



Lap 26 (LAST LAP!) - Grisu wins The Bristish GP!!! 1st win in the season, 2nd in his carreer at the rFR League - congrats, Anime Loverboy!!!


Lap 26 (LAST LAP!) - Both were missing the podium: Sven crosses the finish line as 2nd and the current League Champion, Arek, gets his 2nd podium this season, finishing in 3rd!



BUT...

We still had some 'action' AFTER the race and... it's time for 'THE PENALTIES SHOW'!!!

And on today's show we have:


ARNOLDINHU - STOP AND GO - unsafe rejoin Lap 3, T1 causing damage to pxr5 - "5.31 Rejoining the track unsafely causing another driver to crash and/or damage their car (front wing, rear wing, wheel, puncture) - STOP AND GO"

ALEX HILL - DRIVE THROUGH - Lap 1, T3 - collision with Jackblack and Luft

TOM MCKAY - DRIVE THROUGH - Lap 1, Last Chicane - causing collision with Goa

JURE PAZIN - DRIVE TROUGH - Lap 10, Old Straight - forcing Denis off the track
And with that we had Jure losing his 10th place (Jack got it now) and also his 1 little point after rejoining the League - which was also the very 1st Mercedes team point so far, but... now it'll have to wait for the next race and try to get it (or a few extra ones) again!


BTW, talking about the standings...

At the Drivers' Championship, we still have Adrian leading (because even when things go 'bad' for him, he is still able to score a few points and keep his lead
) with a large advantage over Tom, but now we have Joe McLaggen in 3rd place, only 1 point behind Tom and then raikkO in 4th, only 1 point behind Joe... NICE!!!

And with the victory here, Grisu climbed up 7 places and are now in 6th!
But from 2nd (Tom) to the 8th (Arek) we only have a 15 points gap, so... a LOT can change in the next race!!!

At the Constructors' Championship we had Renault getting the lead from RBR again and the HRT climbimg up to 4th!
For ALL the other pointers and Championship standings, just take a look below!!!
NEXT RACE

: Anyone hungry?.. We have Turkey for dinner...:

Turkish GP

- July 8th, 2012 - Bring your own forks and knives, pliss...
GREAT BRITAIN DRIVERS' POINTS

(OFFICIAL - AFTER penalties):

| | | | | |
| --- | --- | --- | --- | --- |
| 1 | Grisu | (Williams) | 26 points | (25 +1 for pole) |
| 2 | Sven | (Ferrari) | 18 points | |
| 3 | Arek | (HRT) | 15 points | |
| 4 | Joe McLaggen | (McLaren) | 12 points | |
| 5 | Otti | (Sauber) | 10 points | |
| 6 | Adrian S Shole | (Renault) | 8 points | |
| 7 | ADI | (Force India) | 6 points | |
| 8 | Goa09 | (HRT) | 4 points | |
| 9 | Luft_inspektor | (RBR) | 2 points | |
| 10 | Jackblack | (Williams) | 1 point | |

GREAT BRITAIN CONSTRUCTORS' POINTS

(OFFICIAL - AFTER penalties):

| | | | |
| --- | --- | --- | --- |
| 1 | Williams | 27 points | (26 +1 for pole) |
| 2 | HRT | 19 points | |
| 3 | Ferrari | 18 points | |
| 4 | McLaren | 12 points | |
| 5 | Sauber | 10 points | |
| 6 | Renault | 8 points | |
| 7 | Force India | 6 points | |
| 8 | RBR | 2 points | |
DRIVERS' CHAMPIONSHIP - After 6 races

(OFFICIAL - AFTER penalties):

| | | | | |
| --- | --- | --- | --- | --- |
| 1 | Adrian | 104 points | | |
| 2 | Tom | 53 points | | |
| 3 | Joe | 52 points | (+2) | |
| 4 | raikkO | 51 points | (-1) | |
| 5 | Luft | 46 points | (-1) | |
| 6 | Grisu | 42 points | (+7) | |
| 7 | Sven | 38 points | (+3) | TIE BREAKER: best finish pos.: 2nd |
| 8 | Arek | 38 points | (-1) | TIE BREAKER: best finish pos.: 3th |
| 9 | Alex | 29 points | (-3) | |
| 10 | Otti | 28 points | (+2) | |
| 11 | Goa | 22 points | | TIE BREAKER: best finish pos.: 2nd |
| 12 | Bober | 22 points | (-4) | TIE BREAKER: best finish pos.: 5th |
| 13 | Denis | 21 points | (-4) | |
| 14 | Adammo | 15 points | | |
| 15 | Sexy | 13 points | | TIE BREAKER: best finish pos.: 6th |
| 16 | ADI | 13 points | (+2) | TIE BREAKER: best finish pos.: 7th |
| 17 | Black | 10 points | (-1) | TIE BREAKER: best finish pos.: 7th & 8th |
| 18 | Arnie | 10 points | (-1) | TIE BREAKER: best finish pos.: 7th & 9th |
| 19 | Jack | 5 points | | |
| 20 | Jean | 0 points | | TIE BREAKER: best finish pos.: 11th & 11th |
| 21 | Kurt | 0 points | | TIE BREAKER: best finish pos.: 11th & 16th |
| 22 | Jure | 0 points | (+4) | TIE BREAKER: best finish pos.: 11th & 20th |
| 23 | pxr5 | 0 points | (-1) | TIE BREAKER: best finish pos.: 12th |
| 24 | Dead | 0 points | (-1) | TIE BREAKER: best finish pos.: 13th |
| 25 | Cueball | 0 points | (-1) | TIE BREAKER: best finish pos.: 14th |
| 26 | Tony | 0 points | (-1) | TIE BREAKER: best finish pos.: 15th |
| 27 | soutie | 0 points | | TIE BREAKER: best finish pos.: 17th |
| 28 | Stig | 0 points | | TIE BREAKER: best finish pos.: 21st |

* - '

tie breaker

' (for drivers with 0 points) = best finish position (in case of a new tie, the next best finish position - and so on...)

CONSTRUCTORS' CHAMPIONSHIP - After 6 races

(OFFICIAL - AFTER penalties):

| | | | | |
| --- | --- | --- | --- | --- |
| 1 | Renault | 104 points | (+1) | |
| 2 | RBR | 99 points | (-1) | |
| 3 | McLaren | 81 points | | |
| 4 | HRT | 60 points | (+2) | |
| 5 | Blue Arrows | 51 points | (-1) | |
| 6 | Williams | 47 points | (+1) | |
| 7 | STR | 43 points | (-2) | |
| 8 | Ferrari | 38 points | | |
| 9 | Sauber | 28 points | (+2) | |
| 10 | Force India | 26 points | (-1) | |
| 11 | Lotus | 20 points | (-1) | |
| 12 | Mercedes | 0 points | | TIE BREAKER: best finish pos.: 11th (Jure) |
| 13 | Virgin | 0 points | | TIE BREAKER: best finish pos.: 15th (Tony) |


Last edited by Sexy Brigadeiro on 10th July 2012, 8:23 am; edited 24 times in total