REGISTERED DRIVERS (in order of registration):

Total seats: 30
Seats taken: 15
Free seats: 15
Reserve Drivers: 9

- Sexy Brigadeiro - ACTIVE DRIVER
- Sajdi Xhumari (Eri Bobo) - ACTIVE DRIVER
- Juan Caires - ACTIVE DRIVER
- Arek - ACTIVE DRIVER
- Sven - ACTIVE DRIVER
- BackFox - ACTIVE DRIVER
- Joe McLaggen - ACTIVE DRIVER
- Ariff - ACTIVE DRIVER
- Quentin Lag (Spiritus_Sanctus) - ACTIVE DRIVER
- Alex Hill - ACTIVE DRIVER
- ADI - ACTIVE DRIVER
- Antonio Hreljanovic - ACTIVE DRIVER
- Tom McKay - ACTIVE DRIVER
- Riaan_O - ACTIVE DRIVER
- Nicolás Soto - ACTIVE DRIVER
- Free Seat
- Free Seat
- Free Seat
- Free Seat
- Free Seat
- Free Seat
- Free Seat
- Free Seat
- Free Seat
- Free Seat
- Free Seat
- Free Seat
- Free Seat
- Free Seat
- Free Seat

- Arnoldinhu - RESERVE DRIVER
- Ayrton De Lima - RESERVE DRIVER
- Manu Rey (manuolargo) - RESERVE DRIVER
- Matsu - RESERVE DRIVER
- Niesley Flaber - RESERVE DRIVER
- Randal Rodrigues - RESERVE DRIVER
- Scott M. (NASCAR_INDY) - RESERVE DRIVER
- Vlado09 - RESERVE DRIVER
- Wesley Morris - RESERVE DRIVER
PERMANENT SEAT / ACTIVE (& RESERVE) DRIVER RULES:
In the SRD Series, you will get a permanent seat (and be considered as an 'Active Driver') once you read all the rules below and accept them.
Your seat will be yours for the whole season (and no one can take it), UNLESS:
- You miss 3 (three) or more races in a row without telling that to the SAT or LAT.
- You miss 5 (five) or more races in total during the season, no matter if you contacted the SAT or LAT.
In case of losing your seat, you will be set from Active Driver to a Reserve Driver - and your seat will be given to a Reserve Driver (ordered by registration date)
If all the seats are already taken by the time you read/accept these rules (make your SRD S2 Registration), you're gonna be considered as a 'Reserve Driver'.
A Reserve Driver can still take part in the SRD Events (Races), as long as one of the Active Drivers announced they won't be able to take part in that same event (which means we would have a Free Seat for that specific event and it CAN be filled TEMPORARILY by one of the Reserve Drivers).
The number of Reserve Drivers allowed to race will depend on the number of Free Seats avaliable to each event (in case one or more of the Active Drivers announce they won't take part in that event).
Priority of getting a Free Seat filled by a Reserve Driver will be given to whoever registers first to each even (on the Opener topics of each event) among the Reserve Drivers.
A Reserve Driver can become an Active Driver (and get a Permanent Seat) when one (or more) of the Active Drivers disrespect the rule above about how to keep their seats.
SEASON 2 REGISTRATION & GENERAL RULES:
If you want to take part in the SRD Series Season 2 Events (races) and Championship, you MUST READ and ACCEPT ALL the rules in this rulebook (by posting an '
Accept
' at the end of this topic) and this will also be your Official SRD Season 2 REGISTRATION.
The rFR
LAT
are the League Admininstration Team, and they run/manage the rFR League as a whole.
The SRD
SAT
are the Series Admininstration Team, and they run/manage the SRD Series specifically.
ANTI-CHEATER SOFTWARE (rF_Scan):
The use of the Anti-Cheater software (rF_Scan) is MANDATORY for ALL SRD Official Events.
rF_Scan files are already included on the
SRD S2 MOD
files - so when you download the mod, you're already downloading rF_Scan as well.
ALL drivers MUST use the anti-cheat AND also send the log (a VALID one) generated by the software, right after each SRD Official Event.
To know exactly how to use rF_Scan (and how to send a valid log), click
HERE
.
If a driver fails to use the anti-cheat and/or to send a valid log, this will happen:
- First fault: Warning + Back of the grid penalty (applied on both races of the next event).
- Second fault: Disqualification from the current event where the fault happened.
- Third fault: Exclusion from the season for not complying with the regulations of the SRD championship.
TECHNICAL RULES:
The drivers MUST save their Qualifying and Race replays (for LAT/SAT, if required).
The game does that automatically (generating a .VCR file after each session you play), but they get overwritten by default and to fix that, the drivers must edit a line on their .PLR file and make it look like this:
Save All Replay Sessions="1"
It's strongly recommended that the drivers use AT LEAST one (1) virtual mirror during the Official Events and also to lower their game graphics settings in order to avoid graphical lag in case they don't have too powerful PCs.
EVENTS RULES & FORMAT:
Our Official Events ('weekends') take place on the
SATURDAYS
and start EXACTLY at the time set on the OFFICIAL CALENDAR (at
11pm UK Time
- start of quali) - make sure to check your own
LOCAL TIME
to know exactly at which time our events will start for you!
If there are any changes on the events starting time, this will be announced to the drivers some days before the events!
On Season 2, the races will be defined by TIME (and NOT by laps) and will have a duration of 25 minutes.
Event Format (in order):
- Qualifying (Private, 10 minutes of duration and limit of 9 opened laps)

- Warmup 1 (5 minutes of duration)

- Race 1 (A battery of 25 minutes - starting grid = quali)

- Warmup 2 (5 minutes of duration)

- Race 2 (A battery of 25 minutes - starting grid = reverse final positions of battery 1)
Pit stops are NOT mandatory (but it's impossible to complete a race without refueling or changing tires, according to the mod & server settings - fuel consumption x3 and tire wear x3).
During the pit stops, if the drivers want/need, they are allowed to refuel, change tires, fix damage and even adjust some settings like for example, wings, tire pressure, etc..
The official races have
NO RESTARTS
(except if we have a server issue - e.g. server goes offline or any other unpredictable server/technical issue that affects everyone).
Chat is NOT allowed during Official Qualifying and Official Race sessions (although it is allowed at the Official Warmup).
Chatting during an Official Qualifying and/or Official Race sessions WILL result in PENALTIES (read more about the penalties below).
Points will be awarded to the top 10 drivers listed on the charts after each race (regardless of how many laps they completed, EXCEPT if they haven't at least started the race - in this particular case (not starting the race), NO points would be awarded at all).
Points System:
1st place = 15 points
2nd place = 12 points
3rd place = 10 points
4th place = 8 points
5th place = 6 points
6th place = 5 points
7th place = 4 points
8th place = 3 points
9th place = 2 points
10th place = 1 point
There are 2 Tables/Standings/Championships:
- The Drivers' Championship, where the points are scored individually by each driver, according to the place they finished the race (if they finished inside the top 10)
- The Constructors' Championship, where the points are scored for the team by both drivers of that same team (teammates), also according to the places they finished the race (if both or just one of them finished inside the top 10)
Although the ideal is to always have AT LEAST 10 drivers to start each official race, ALL races previously set on the official calendar will be considered as official and valid for the current season Championship, regardless of the number of drivers who showed up and/or actually started the race - and championship points will be awarded accordingly to the points rule mentioned above.
Races can be canceled and/or rescheduled by the admins, due to any unnexpected technical problems that may appear. But IF that ever happens, a message will be sent to the drivers as soon as possible before the race date.
PENALTY SYSTEM:
After each race, an 'Incidents Reports' topic will be created and the drivers MUST report ANY incidents they were involved at (or that they saw), especially if they feel they were prejudiced by another driver (or if they know they prejudiced other drivers), or even if they think another driver did something 'unfair', giving these drivers an unfair advantage and prejudicing the driver reporting the incident(s) - including cutting the track and/or gaining time/places unfairly.
We have a group of 3 Stewards to analyze the quali/race replays and check the
reported incidents
- and then they will 'judge' each incident and apply penalties accordingly, if necessary.
Only reported incidents will be analyzed by the stewards!
(unless they 'happen to see' an unreported incident by themselves and they think that incident deserves a penalty..)
So, if you see something 'wrong',
don't forget to report it after the race!
The stewards will NEVER analyze/jugde an incident where they (or their teammates) are directly involved - and in this case, they will be replaced by another SAT member to judge that specific incident.
If the stewards agree a driver (or drivers) must be penalized by causing an incident, this penalty will be applied onto the Official Race Result (in the form of time added to the driver(s) final race time) and MAY change the final positions and points - in case the penalized driver(s) finished the race.
If a driver gets penalized but did not finish the race, their 'time penalty' will be converted to a certain number of 'grid drops' (Qualifying place(s) loss) for their next race - depending on the severity of the caused incident and the stewards' judgement.
The penalties may vary from a simple warning to a league ban, depending on the severity of the incidents: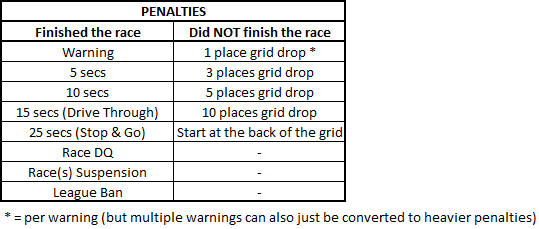 DRIVING RULES:
Drivers MUST respect the TRACK LIMITS, which are determined by the white lines on both sides of the track - Pic. 1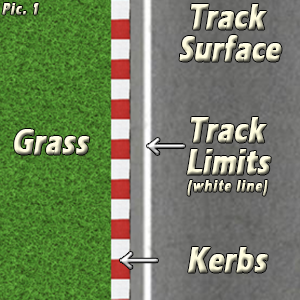 A driver/car status is considered as being '
out of the track
' everytime they have LESS than TWO (2) wheels (of the same side of their car - right or left) inside (or over) one of the white lines - Pic. 2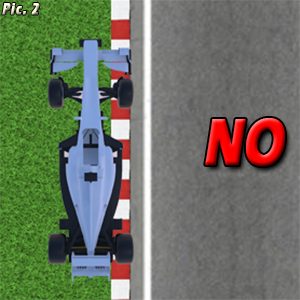 The white lines ARE still part of the track, but the kerbs are NOT.
Kerbs can be used by one side of the car, as long as the other side of the car keeps the 2 wheels INSIDE the track limits (inside or over the white lines) - Pics. 3 and 4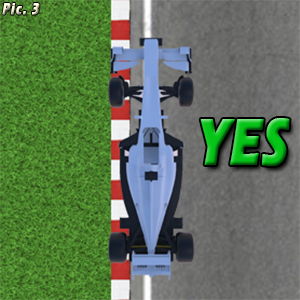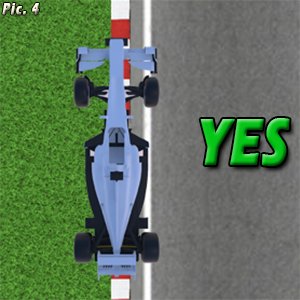 If you go 'out of the track'
and gain time or places
by doing so, that's considered as CUTTING - and
cutting is ALWAYS FORBIDDEN
.
Drivers WILL ALWAYS get penalties by cutting.
If a driver goes out of the track accidentally or to avoid a crash in front of them and then gains time and/or places by doing that, they MUST lift up the throttle for a few seconds to compensate the time gained and give the place(s) back - if a driver fails to do that, they WILL get penalized.
If a driver goes out of the track and loses control of the car (or by losing control of the car), they MUST be EXTREMELY CAREFUL when rejoining the track.
They MUST wait for cars passing by before rejoining the track - check your map hud if you have one, or at least your rearview mirrors before moving your car back to the track!
Rejoin slowly, carefully and on an approximately 'parallel' angle towards the track and race direction - and if possible, stay OUT of the 'racing line', until you are back on 'race speed' again and is SURE no one is coming from behind on a higher speed than yours.
NEVER just 'throw' your car back on track desperately trying not to lose too much time - be ALWAYS careful about the other drivers on track before rejoining!!!
Overtakes MUST be done withOUT any contact.
When overtaking, do NOT cause a collision or force the other driver to avoid them - that's YOUR responsibility in the first place, since you're the one executing the move.
And do NOT move directly in front of the overtaken car, right after the overtake.
When being overtaken, do NOT 'throw' (move dangerously) your car over the overtaking car. Also do NOT 'block' by moving your car towards the opponent, at the very last second, if/when they already have part of their car side by side with part of your car - avoiding a collision at this moment is also YOUR responsibility.
When defending a place (trying to avoid being overtaken), you are allowed to make only ONE (1) defensive move - Pic. 5
You CAN do more than one defensive move, but ONLY IF you leave AT LEAST ONE (1) car width space to your opponent(s) - Pic. 6
NEVER force another driver out of the track (or into a wall, or into another car) - Pic. 7
Also NEVER block another car when doing that 2nd move to defend your place - Pic. 8
If you are being lapped (are under BLUE FLAGS), simply move over, lift up a bit and let the faster car(s) pass as soon as possible - do NOT 'block' them or make them lose time behind you.
Disrespecting/Ignoring blue flags WILL give you a penalty.
Do NOT follow other car(s) (to get their slipstream) into the pit lane entrance - unless you're also going to pit.
Be careful when leaving your pit box and do NOT 'throw' your car into another pitting car's path.
When rejoining the track after your pit stop, do NOT cross the white pit exit line or endanger the cars already on circuit.
NEVER drive on the wrong direction (obviously)...
NEVER drive unnecessarily slow or dangerously (also obviously)...
And if for some reason you just can't keep driving (blown engine, out of gas, car got stuck on a kerb or gravel, etc), just press ESC and retire your car from the track as soon as possible.
LAST BUT NOT LEAST:
- Yes, you CAN be competitive and even aggressive (we all want and expect that from each other, right?!..), but be ALWAYS FAIR and HONEST before ANYthing else - ALWAYS use a 'Gentlemen's Race' mindset!
- ALWAYS respect not only the rules above, but also ALL of your opponents.
- Remember: people are here to have FUN, above all else - and so are YOU.
- You are the result of 4 billion years of evolutionary success. Act like it.
...
If you agree and accept all of these rules, make sure to reply an '
Accept
' below - and you're officially REGISTERED for the SRD Season 2!
See you on track!


Last edited by Sexy Brigadeiro on 25th February 2016, 4:09 am; edited 33 times in total