We're gonna have another 10 races calendar, so we need 10 tracks for the SRD Season 2.
We're gonna pick/vote for the tracks avaliable on the long list below, which has all of the tracks used on all 9 rFR GP Series seasons and also on SRD Season 1 and the Porsche Series Season 1, plus 3 new tracks that were suggested in previous seasons, but never used so far in any of the series - which give us a total of 61 tracks to pick from!
BUT... I will let you guys make your own suggestions too, so we can add these suggestions to this long list! They will be included on the 'EXTRA' section.
RULES:
- I will accept track suggestions only until SUNDAY, DECEMBER 6th of 2015 (until the beginning of the rFR GP Series race, at RedBull Ring - I will NOT accept suggestions after this deadline).
- I will only accpet a suggestion and add it to the list if you guys also provide a DOWNLOAD LINK to the track(s) you're suggesting (tracks without a download link will NOT be added to the list).
- Suggest tracks that you think will 'fit the mod' Peugeot 207 (if you haven't tested the mod yet.. go and do it!!.. NOW!!)..
- Make SURE your suggestion is NOT on the list (do NOT suggest a track (or a version, or a layout) that is already on the list - read/check it carefully!!)..
HOW IT'S GONNA WORK:
On sunday, I'll release a new list (with all the new suggestions added) and we're gonna select 10 (ten) tracks out of all the ones avaliable - I will give more details about how exactly it's gonna work on sunday, when I create the new topic for the actual picking/voting.
...
ALL tracks used on the rFR League so far: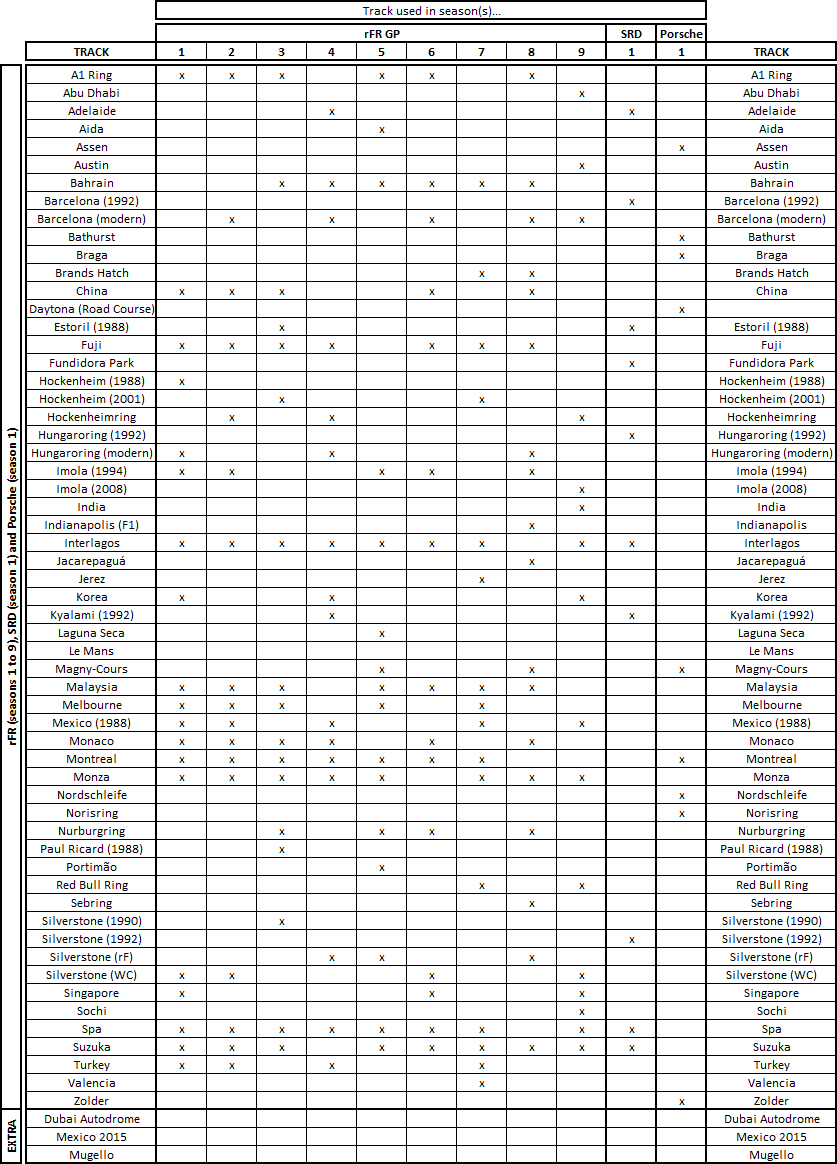 Last edited by Sexy Brigadeiro on 6th December 2015, 11:56 pm; edited 2 times in total