Hello everyone,
As many of you already know there will be a new rFactor Racers series for our league called "rFR Porsche Cup". It will start on Thursday, 17/09/2015, 8PM UK-Time and will be run on a second server.
What mod will be raced?
We will race a mod based on "Porsche Carrera Cup 2007". The Mod BETA is already available to test on our SymSinc. (Only rain tires missing)
What is the race format?
There will be two kinds of events.
Double Headers (6 events):
- Double Headers consist of a 5 minute qualifying session and two 20 min races. The reversed finishing positions of the first race will be the grid for the second (DNFs starting from the back). Point system (
for both races
): Races (top 15): 25-20-16-13-11-10-9-8-7-6-5-4-3-2-1; Quali (1st and 2nd): 2-1; Fastest race lap: 1.  
Superprixs (2 events):
- Superprixs consist of a 5 minute qualifying session and a 48 min race simulating a 24H race with day-night-change (2 min = 1H). The Superprix tracks will be Le Mans and Nordschleife. Point system (top 15): 50-40-32-16-22-20-18-16-14-12-10-8-6-4-2; Every other race finisher: 1; Quali (1st and 2nd): 4-2; Fastest race lap: 2.
How will the season look like?
We will have events on 8 different famous circuits including Le Mans, Nordschleife and Daytona. The season will start on
17/9/2015
 and last 4 months with one event every two weeks.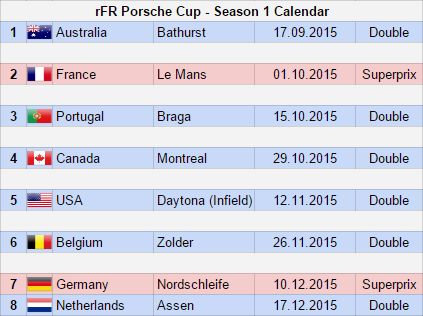 What other new features will the new series bring?
For the first time rFR will make use of the RFE weather plug in to generate random dynamic weather scenarios for each session. It will also be used in our Grand Prix series.
Will there be prizes?
Yes there will be a 10€ Amazon voucher for the championship winner! A Superprix winner will win a 2€ Amazon voucher.
How many spaces will be avaible and how to get one?
Our new Porsche server has 20 slots and so 20 race seats are available per event. This might be upgraded in future. This is an open registration thread. Everyone can register for the season. The first 20 registering in this thread will have a guaranteed seat for every event. When a registered driver is absent, his seat will be filled on a first-come-first-serve basis.
All drivers are entered in to the Drivers' Championship. Car/skin choice is free and not fixed for the season as there is no constructors' or teams' championship, and no team building process.
If this interests you please sign in for a guaranteed seat now under this thread!
Just post your
full name
, an "
In
" and if you don't have a permanent driver number please post your wish. We wont accept nicknames anymore, but will accept alias names such as "Alex Hill".
Drivers signed in (18/20): wrote:Adrian Bacea
Antonio Hreljanovic
Arkadiusz Kulak
Daniel Cziranku
Dario Azevedo
David Storer
Denis Belarus
Eri Bobo
Jack Mayor
Joe McLaggen
Kimmo Savolainen
Marco Capacci
Richard Allen
Shaffiq Islam
Steven Mitchell
Sven Dirks
Tom McKay
Wesley Morris


Last edited by Sven on 11th September 2015, 3:45 pm; edited 24 times in total